Bird Photographer of the Year 2021 finalists revealed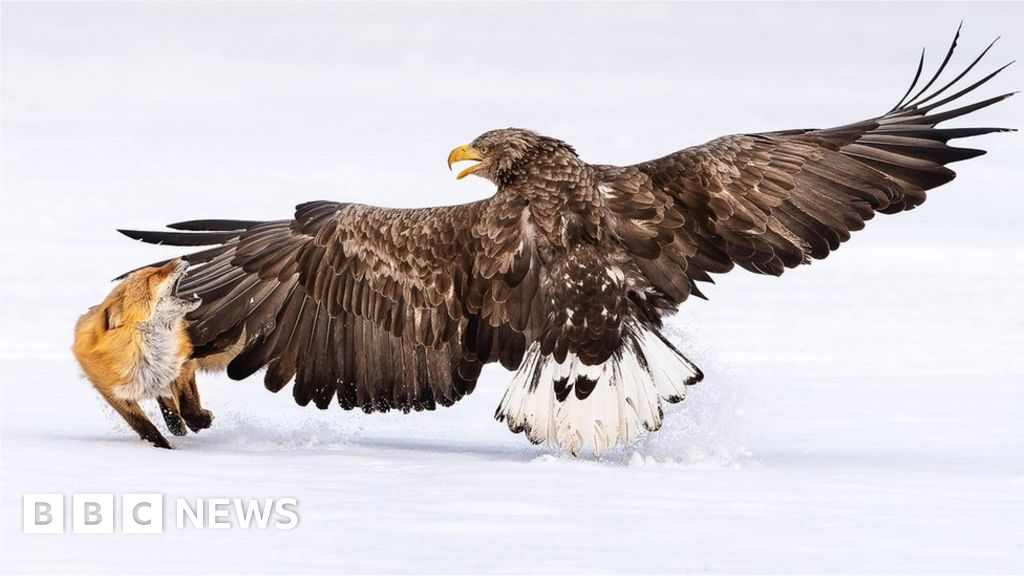 The finalists for the Bird Photographer of the Year 2021 (BPOTY) competition have been chosen from more than 22,000 entries from 73 countries.
The competition, now in its sixth year, provides financial help to grassroots conservation projects through its charity partner Birds on the Brink.
"The standard of photography was incredibly high, and the diversity in different species was great to see," said Will Nicholls, wildlife cameraman and director at BPOTY.
"Now the judges are going to have a tough time deciding the winner."
Winners will be announced on 1 September, with the best images to feature in a book published by William Collins.
Here is a selection of some of the images from the shortlist, with descriptions by the photographers.
Bar-tailed godwit, Asturias, Spain, by Mario Suarez Porras
"This image shows a bar-tailed godwit, photographed in the late evening on my local beach at Gijón in northern Spain.
"Because it was really dark, I was able to crawl towards the godwit without causing any disturbance."
European shag, the Farne Islands, UK, by Brian Matthews
"A hungry juvenile shag literally dives down its mother's throat for more fish rather than waiting for it to be fully regurgitated.
"The image was taken on the Farne Islands, one of the most accessible 'Puffin Islands' in the UK."
Atlantic puffin, Hornøya, Norway, by Øyvind Pedersen
"This photo was taken on the bird cliffs of Hornøya Island in Norway, in April 2018.
"It shows two puffins who started a brawl that continued down the snowy slope right in front of me.
"They battled for several minutes, with feathers and snow flying everywhere."
Fiery-throated hummingbird, Los Quetzales National Park, Costa Rica, by Gail Bisson
"We stopped for lunch at a lodge in Costa Rica, where there were multiple hummingbird feeders located throughout the property.
"The feeders, which are filled with sugary water, attract more than just hummingbirds; they are also a magnet for insects."
Mute swan, Nottinghamshire, UK, by Diana Schmies
"Mute Swans typically don't breed until they are at least three years old.
"But it is not uncommon for elements of courtship behaviour to be seen earlier, as happened with this couple.
"Apparently not concerned by the age difference, this adult male was intent on wooing an immature female, and his interest appeared to be reciprocated.
"Classic courtship rituals were performed, like raising the necks and turning their heads sideways while keeping their breasts pressed against each other."
Great cormorant, Kiskunság National Park, Hungary, by Irma Szabo
"Until I took this photo I must admit that cormorants weren't my favourite birds.
"I gradually came to realise they are actually rather pretty birds, especially in breeding plumage with beautiful green eyes and shiny, dark green feathers.
"I managed to capture this special moment when a cormorant was just about to swallow its prey and the fish seemed to be flying into its beak."
Black and white warbler, New Jersey, USA, by Raymond Hennessy
"Backlit by dawn light, the breath of this black and white warbler shows the subtle colours of the rainbow as it drifts off in the cold morning air."
Tufted duck, Newfoundland and Labrador, Canada, by Brad James
"It's always a pleasure when you are able to capture both male and female of the same species in one image.
"I was very pleased when this scene lined up perfectly, with the drake framed and referenced by the out-of-focus duck in the background.
"To obtain this image I lay motionless on the edge of the pond, practically at water level."
Mute swan, Derbyshire, UK, by Andy Parkinson
"Over the years I have developed a bond of trust with a group of mute swans and on this occasion it paid dividends.
"This trusting relationship allowed me to capture this most intimate perspective: an infant cygnet resting its head peacefully on its sleeping mother.
"The female swan trusted me implicitly to stand this close and my accepted presence caused her not the slightest concern."
Mallard duck, Prague, Czech Republic, by Zdeněk Jakl
"I took this photograph on a pond in a beautiful park in a quiet part of the city of Prague.
"As a family of mallard ducklings swam past me, one of them began to chase a fly.
"It highlighted the fact that the instinct to feed is a powerful force even in the young, but of course the behaviour itself was comical from a human perspective."
Swallow, Lincolnshire, UK, by David White
"Swallows have to be one of my favourite birds, and my entire family await their return in spring with nervous excitement.
"There's the joy of that flash of steely blue as they return to the same stable on the farm.
"This photo was taken from inside the stable, using a remote trigger to fire the camera, which was situated at a safe distance just outside the window.
"The aim was to time the image-capture to coincide with the swallow flying through the window and I am proud to have achieved my goal."
Eurasian jackdaw, London, UK, by Amanda Cook
"It was an enchanting morning in May and I felt as though this jackdaw and fallow deer were part of some childhood fairy tale with the bird whispering a secret to the deer.
"In reality, the narrative was more ordinary and the jackdaw was pinching hair from the deer's back to use in nest building."
Lonely depth, Krk Island, Croatia, by Gábor Li
"Last summer, while on a family holiday in Croatia, I spent time photographing shags.
"One of my goals was to take a photo of them underwater, but it was a lot harder than I first thought.
"I waited in the water for hours, next to the rock where they were roosting and from which I assumed they would jump and submerge.
"My favourite thing about this image is that you can see the sparkly spot lit by the setting sun where the bird submerged."
Black-crowned night heron, Wan Chai, Hong Kong, by Daphne Wong
"As night falls, Hong Kong's Victoria Harbour is brightly lit by billboard lights and street lamps.
"Here, a black-crowned night heron has found a fishing perch on the harbour front.
"Used to the presence of humans, its red eyes stay fixated on the streetlight-lit water, looking for its next meal."
Emperor penguins, Antarctica, by Thomas Vijayan
"The emperor penguin is the tallest and heaviest of its kind and is endemic to Antarctica.
"To take this image, I was lying flat on the ground; objects lower than penguin height are less intimidating to the birds.
"Consequently, they spent plenty of time beside me, meaning I could capture some beautiful shots.
"On this particular trip, I walked an average of eight hours each day in search of a perfect image."
Southern giant petrel, South Georgia, by Eirik Grønningsæter
"Southern giant petrels happily scavenge on dead seals or penguins or any other dead animal.
"The petrels are not afraid of people and so I carefully placed my camera inside the carcass of a penguin and waited for the bird to start eating.
"When it comes to food and feeding, southern giant petrels are possessive birds, and this one is stretching its wings to ward off other petrels in the neighbourhood."
All pictures are subject to copyright.